Click for Specification page
Click for Case Studies page
| | |
| --- | --- |
| | We are very pleased to have been chosen as winners of the DEBI "Low Carbon Innovative Business" for 2012 which was held at the MET Office in Exeter. |
THE EXETER CHARCOAL RETORT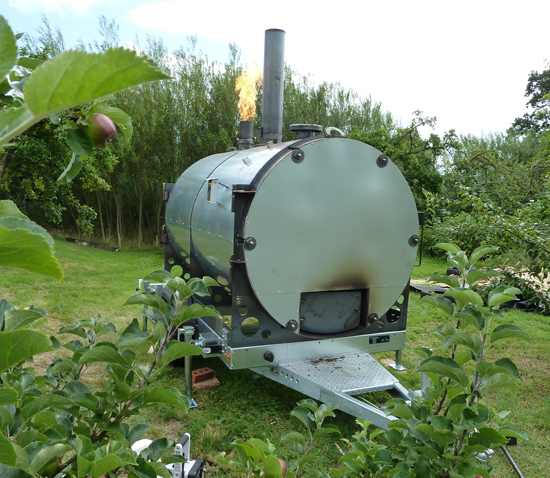 See article in Living Woods Magazine Jan. 2012
See article in Living Woods Magazine March 2012
The advantages of our retort over a ring kiln are:
Short burn time - around 8 hours, from lighting to shut down.
Fully transportable - trailer mounted (optional).
Can pyrolise any type of wood - logs to twigs.
Cleaner in operation - up to 75% fewer pollutants released.
More efficient - 100% of wood is pyrolised. No ash or waste.
Temperature readout - Integrated digital thermometer.
Large retort chamber - 1.7 cubic metres.
Easy access - retort and firebox doors at both ends.
Easy to operate - no special skills required.
The Exeter Retort is made under license in the USA, Australia & South Africa.
Owners of our retort include The National Botanical Gardens of Wales, Westonbirt Arboretum,
& The Ascension Island Government
| | | |
| --- | --- | --- |
| | | The retort was carefully designed & computer modelled to ensure that it burned off harmful particles & emissions by ducting the hot gases around & back into the retort. |
THE ABOVE PHOTOGRAPH SHOWS THE RETORT LOADED WITH SHORT ROTATIONAL WILLOW. IT WILL JUST AS EASILY PYROLYSE HARDWOOD BLOCKS FOR BBQ CHARCOAL.
When the subject wood is first heated, it enters the endothermic stage. This is where external energy (combustion in fire box) is required to start the process. During this stage, steam is given off. As the temperature rises, wood gases becomes mixed with the steam. This 'dirty' stage only lasts approx. 30 minutes.
When the temperature reaches 375ºC, the steam has reduced & the gases, when diverted into the firebox, ignite. This is referred to as the exothermic or retorting stage, where the ignited gas jets are sufficient to complete the process of pyrolysation with no additional external energy.
By using the flare-off valve, the temperature is kept below 500ºC during the retorting stage.
Email: admin@carboncompost.co.uk
Tel: Robin on 01392 431454 or 07515 683908
Geoff on 01392 274699 or 07966681676
Address: Carbon Compost Co. Ltd, 167 Mincinglake Road, Exeter, Devon, EX4 7DS